Email Hosting Services


Email hosting from Castles.com, offers email for personal, group, business and outsourced email. Get secure email hosting, reliable personal service, and web email services. Our web email is full-featured and easily accessible.


In-house email cost piling up?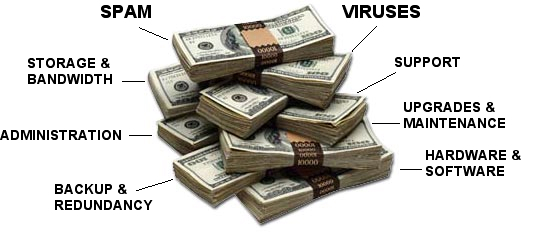 Castles provides a solution that allows you to take care of business and save dollars
..... with World-Class Features, Complete Control and Total Protection.

Castles.com powers email services for hundreds of domains worldwide.
Our advanced email architecture is used by local businesses and global corporations alike.

RECLAIM YOUR TIME
RECLAIM YOUR MONEY
OUTSOURCE YOUR EMAIL

Reliability

Castles.com provides email reliability and expertise that few companies can build on their own. Our infrastructure includes Network Appliance redundant storage coupled with our fault tolerant Sun Network providing 99.9% uptime for you and your business. Castles.com's infrastructure has been in place since 1998 and handles over a billion messages a month.
No-Worry Business Email Solution


The Castles Business Mail solution allows you to focus on your business rather than worry about your email system. We provide a complete, reliable business email solution for just pennies a day. We keep your team synched wherever they are without expensive upgrades or complex software management requirements. Castles' Business Mail provides you the flexibility to either access your accounts through Web Mail or the email application you're already familiar with.
Castles Total Business Email Protection


Castles Total Protection suite combines the power of built-in Sophos Anti-Virus with our SpamShield Pro to keep unwanted and harmful email away from your Inbox. Business are losing tens of billions of dollars each year to lost productivity and data corruption from email viruses and spam. Castles Protection System can be added to every mailbox for only $1 per month.

Save Time and Money With Our Business Email


Providing full-featured business email to your team is expensive to do on your own. Server, software, backups, bandwidth, virus and spam solutions typically require thousands of dollars in investment and ongoing support costs
Email outsourcing offers more powerful features and reduces costs!


Tired of fighting off spam attacks, directory harvests and virus outbreaks? Tired of spending resources on hardware and software costs associated with protecting your customer?

Join other business managers by letting Castles provide you with a complete solution that shields you from costly hardware and software upgrades.
At Castles, we have a team of industry experts from various domain areas building our infrastructure to address those issues. Together, they bring years of experience in software design and operations. With millions of dollars of capital investment and years of development, testing, and fine-tuning via real-world use, the result is a battle-tested system that delivers scalability, reliability and deliverability.

Spam Protection by SpamShield

Castles.com provides a version of SpamShield for all hosted mailboxes. SpamShield Pro provides powerful, user adjustable control over spam while SpamShield Lite provides basic, always-on protection.

Unlike costly in-house servers, SpamShield is fully integrated into our messaging architecture enabling us to provide unique solutions such as our email fingerprinting technology that prevents "bounce storms."

SpamShield Pro Features

<>Automatically blocks sources of spam attacks
Intelligent monitors ban specific IP addresses where spam originates
<>BounceShield
Reject bogus returned messages.
<>Selectable Sensitivity setting
Adjust the criteria that SpamShield Pro uses to identify spam.
<>Move spam to user selectable folder
Automatically send spam to a folder of your choice.
<>Hide images in messages
Block offensive graphics, and bugs used by spammers to track your activity.
<>Insert SpamShield Score into message header
Works with popular email programs such as Outlook, Netscape, Eudora and others.
<>Approved Senders list
Whitelist trusted email addresses or entire domains.
<>Only accept email from Approved Senders
Instantly turn your Approved Senders list into a greenlist.
<>Bocked Senders list
Blacklist and bounce messages from spammers.
<>SpamShield Pro Actions menu
Quickly Block or Approve Senders in Web Mail.
<>SpamShield Pro Score column
Sort messages in Web Mail based on their likelihood to be spam.

Anti-Virus Protection by Sophos

With new virus threats being discovered every week, you need email protection that's always up-to-date. Castles.com Total Protection includes fully integrated, always up-to-date Anti-Virus technology powered by Sophos, a global leader in anti-virus solutions for business.