Castles Reading and Art Contest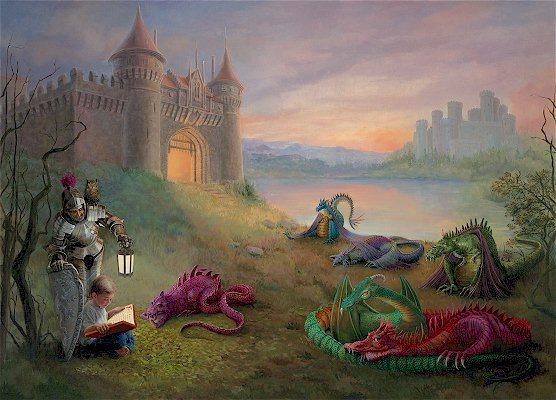 "The Dragon Tamer"
by Lynn Lupetti






Original Artwork and Limited Editions by Lynn Lupetti.

at Lynn Lupetti Gallery located in Carmel, California



We thank Lynn Lupetti for allowing us the honor of
featuring her painting in conjunction with our contest.





Visit Lynn Lupetti Gallery to see more great paintings and prints by this great artist.

---
---
Castles Information Network, Inc. and The Reporter




Castles Kids Reading and Art Contest





Hear ye, Hear ye

- Seeking all young knights and princesses in grades Kindergarten through 6th grade attending school in Vacaville.

News has arrived that

Castles Information Network

and

The Reporter

have teamed up to present the annual

Castles Kids Reading and Art Contest

.

Of little talent say ye? Worry not. The contest merely involves reading a book with a medieval theme and using your imagination to create a colored drawing of the book you read. The drawbridge to the

Kingdom of Reading

is now down, the iron gate open, and fear not falling into the moat. The

Kingdom of Reading

is child friendly and filled with wonderment. A world of adventure awaits beyond yon castle walls.
The contest is open to any knight or princess attending elementary school (K-6) in Vacaville.

Each student must read a book with a medieval theme.
There will be one grand prize winner and a first place winner in three divisions:

Division I - grades K, 1, 2;
Division II - grades 3, 4; and
Division III - grades 5, 6.
Not only do young knights and princesses compete, the class bringing forth the Grand Prize Winner will receive a King's prize of $50 for classroom supplies. The grand prize winner receives an assortment of treasures from the kingdom including a $50 Target Gift Card.




Division winners also receive treasures from the kingdom and a $25 Target Gift Card.





Each classroom bringing forth a 1st Place winner will also be awarded a King's prize of $50 for classroom supplies.



Each student must read a book with a medieval theme. (Teachers in grades K & 1 may elect to read several books and allow the students to choose one.)

Then on an 8.5 x 11.0 sheet of paper draw and color a picture representing the book they read.

Printed on the back of the drawing must be:

Student's Name,
Teacher's Name,
Grade 4) School,
Book Title. and
Book Author

A sample list of themed books prepared by the Vacaville Public Library is shown below.



To go directly to the Solano Library web site click

here

.



For additional information please contact Castles at 455-3401.




Sample list of themed books






GRADES K-2


17 Kings and 42 Elephants/Mahy
Bub, or the Very Best Thing/Babbitt
Castle of Books/Clavel
Castle Under Attack/Baxter
Castle/Biesty
Cinderella/Perrault
Cinderella's Rat/Meddaugh
Custard the Dragon/Nash
Do Knights Take Naps?/Tucker





GRADES K-2


Emperor's New Clothes, The
Frog Princess, The/Cecil
Get Well, Good Knight/Thomas
Henry and Mudge and the Long Weekend/Rylant
Herb, the Vegetarian Dragon/Bass
Hogula, Dread Pig of the Night/Gralley
I Am Really a Princess/Shields
I Know Karate/Packard
King Bidgood's in the Bathtub//Wood
Knight and the Dragon, The/ De Paola
Knight Who Was Afraid of the Dark/Hazen
Paper Bag Princess, The/Munsch
Paper Dragon, The/Davol
Princess Smartypants/Cole
Puss in Boots/various authors
Rapunzel/Zelinsky
Rumplestiltskin/Zelinsky
Sarah and the Dragon/Coville
Sleeping Beauty/Grimm




GRADES 3-4


100 Things You Should Know About Knights and Castles/Kerr
Castle Diary: the Journal of Tobias Burgess, Page/Platt
Castle Mystery/Warner
Castle/Gravett
Castle/Macaulay
Christmas in Camelot/Osborne
Deadly Dungeon, The/Roy
Dragons Don't Cook Pizza/Dadey
Dragons of Blueland/Gannett
Elmer and the Dragon/Gannett
Enchanted Castle, The/Nesbitt
Frog Prince—Continued, The/Scieszka
King Midas and the Golden Touch/Craft
Knight at Dawn, The/Osborne
Knights Don't Teach Piano/Dadey
Knights in Shining Armor/Gibbons
Knights of the Kitchen Table, The/Scieszka
Mufaro's Beautiful Daughters/Steptoe
My Father's Dragon/Gannett
Reluctant Dragon, The/Grahame
Saint George and the Dragon/Hodges
Scooby-Doo and the Haunted Castle/Gelsey
The Case of the Creepy Castle/Katschke
Titus Rules!/King-Smith



Grades 5-6


Akiko in the Castle of Alia Rellapor/Crilley
Alanna, the First Adventure/Pierce
Castle in the Attic, The/Winthrop
Catherine, Called Birdy/Cushman
Door in the Wall, The/DeAngleli
Dragon Rider/Funke
Dragonsinger/McCaffrey
Dragonsong/McCaffrey
Ella Enchanted/Levine
Haunting of Granite Falls, The/Ibbotsen
Just Ella/Haddix
King Arthur and theKnights of the Round Table/Sterne
Legend of Lady Ilena, The/Malone
Lily Quench and the Mystery of Mote Ely/Prior
Medieval Life (Eyewitness)/Langely
Prince Caspian/C.S. Lewis
Princess and the Goblin/MacDonald
Princess Diaries, The/Cabot
Princess in Love/Cabot
Pure Dead Magic/Gliori
Secret of Platform 13, The/Ibbotsen
Sword in the Stone, The/ White
Tale of Despereaux/DiCamillo