Castles new Rich Web Mail interface-Castles Information Network
Rich Web Mail
The Rich Web Mail interface delivers a feature-rich, desktop-like experience that is intuitive and simple to use.
Inbox navigation provides "quick click" features as well as a broad array of actions just from right clicking on a message! And no more paging through your Inbox of messages. All email messages are displayed in a single pane by simply "scrolling" from top to bottom. Simple, intuitive, and fast!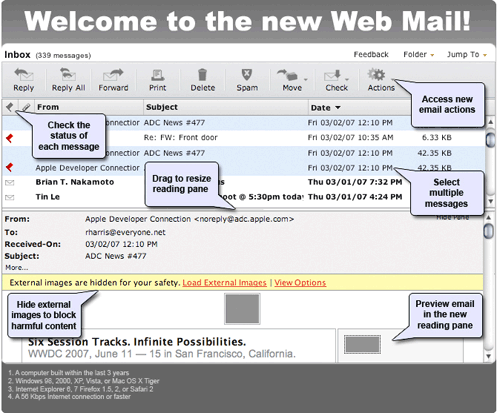 New features being added regularly!
Email
Email Upgrades and Packages
Email upgrade packages and email only services - for current pricing -

click here
Email Only Clients
Castles provides email only services to many customers that have moved out of our area to locations near and far. As long as you can connect to the Internet you can normally use Castles business class web mail system. Tired of all those annoying ads and tracking. Castles does not track where you go, what you do or who you talk to. Consider a castles.com email box.
---
Online File Storage
Storage creates a completely secure online account to upload and share any file type including documents, photos or videos directly from your email account.

Storage is completely integrated with your email service. An intuitive user interface saves email attachments directly to a user defined nested folder system. Document organization is quick and easy and simplifies locating, attaching and sending files via email.

Integrated online storage service -

Your Storage documents are always available. All you need is an Internet connection and web browser to access critical information with ease. Increase performance and efficiency with this integrated, time saving solution.

Anywhere access to your files -

Secure online storage and access -

All files uploaded to Storage are scanned for viruses. Access is secure and further enhanced when SSL is enabled by the email administrator. Online storage has never been easier and now it can be done from a single solution. One vendor, one complete solution.