This page is for Castles customers with Point-to-Point wireless services.
Castles uses two types of equipment - Motorola Canopy and Ubiquiti.
Both systems use what we call a radio at the customer location. That radio connects via point-to-point via wireless to an Access Point on one of our towers. An indoor/outdoor Cat5 Ethernet cable runs from the radio into your home or office and connects to a power supply. That power supply is what powers the radio. Should the power supply not be connected to the radio, you will loose the Internet connection.
Every wireless customer is assigned a Static IP. If your router is programmed with the Static IP, disconnecting the router or resetting it to factory defaults will also terminate the Internet connection. Resetting the router will require reprogramming.
Starting in June 2014, Castles is moving the Static IP from the router to the radio. For those customers affected, you will be notified of the change. From then on you will be able to reset the router without affecting your Internet connection through our network. You may need to reconfigure your WIFI setup.
Below are photos showing the connections from the radio to the power supply and then to the router. All cables should be connected and snug. 
---
Typical Canopy Connection
---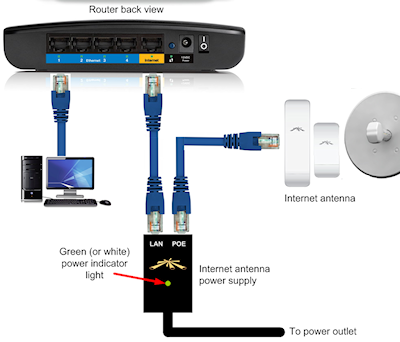 Typical Ubiquiti Connection
---